5 Mother's Day Special Comfy Sleepwear Gift Ideas To Help Her Relax and Recharge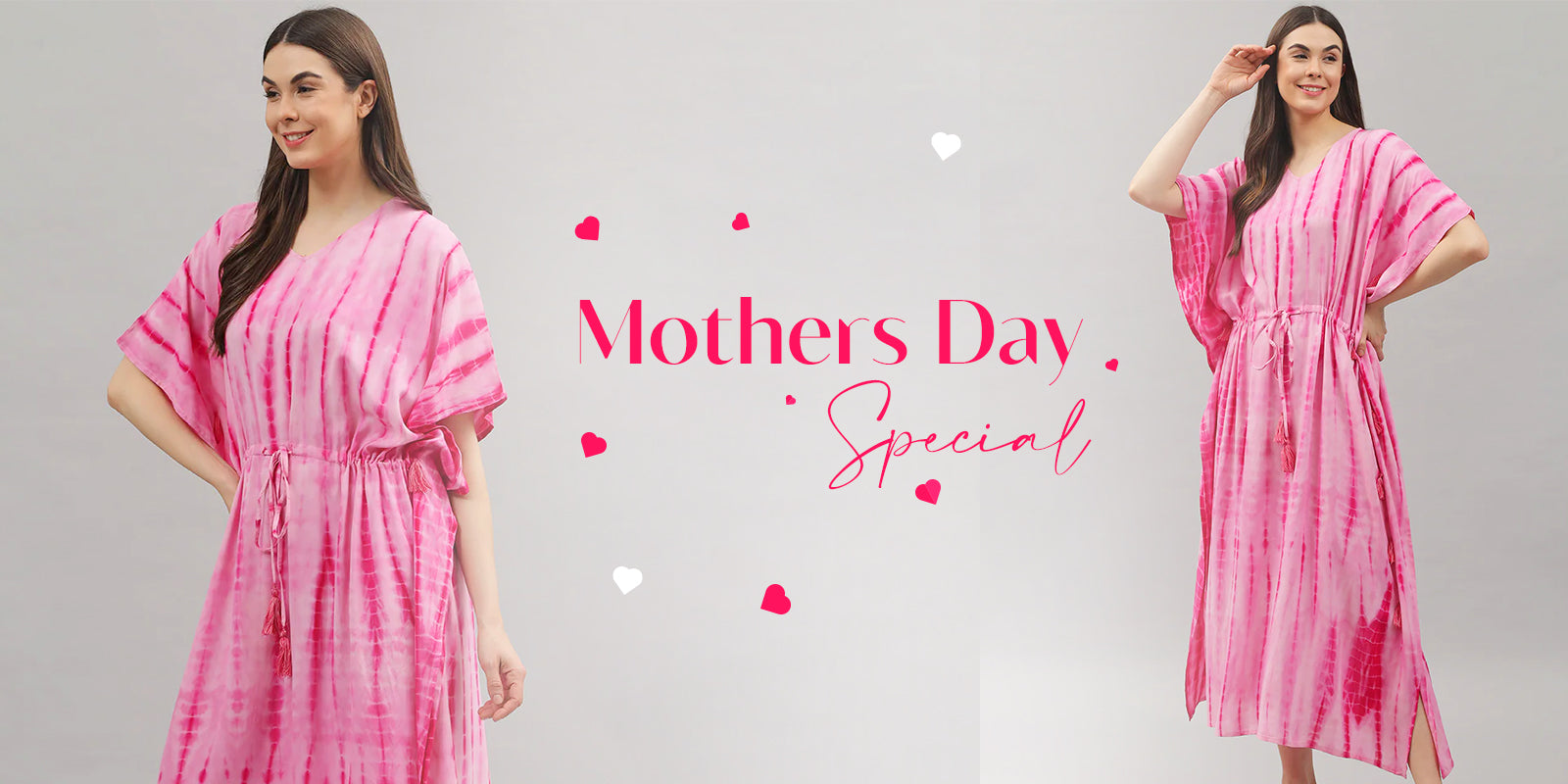 1. BLUE FLORAL PRINTED STRIPE WOMEN'S NIGHT SUIT BY SHARARAT
The quintessential top and pyjama for women sets are a must-have in any sleepwear collection, mainly because they offer a complete and cohesive look. This outfit will save your mom from the hassle of mixing and matching different pieces to put together a nighttime ensemble. Night Suits are one of the top options for women's nightwear, perfect for mommies who prefer a comfortable and chic sleepwear style.
With its cheerful blue color and its intricate floral print, this stylish printed coord set is an absolute delight. It gives off a subtle yet charming vibe, making it the perfect gift for your mom on this special occasion. The soft and breathable cotton fabric will make sure she gets her much-needed beauty sleep and wakes up feeling ready to take on the day!
2. PINK TIE AND DYE PRINT RAYON KAFTAN
What's better to unwind after a long day by slipping into an easy-breezy kaftan dress? The flowy, loose-fitting design of this outfit not only creates a beautiful silhouette but also allows ventilation and movement. The result? A restful sleep, especially when the weather's hot and humid.
This pink tie-dye cotton kaftan night suit is the epitome of comfort and style. It comes with an adjustable drawstring at the waist that can be used to customize its fitting. It offers full coverage and is made with lightweight and soft rayon fabric. This lovely cotton sleepwear is a go-to choice for sleepwear or loungewear for women who like effortless styling.
3. WOMEN'S COTTON FLORAL KAFTAN NIGHT GOWN/ NIGHTY/ NIGHTDRESS
Love the idea of a cotton kaftan night suit but want something more contemporary and youthful? Make sure your chic mama is always on fleek with this super trendy short kaftan dress! Its soft cotton fabric, knee-length coverage and loose-fitting design will keep your special lady feeling cool and cosy through the day (and night).
The intricate floral print on a white base gives this dress a relaxed and soothing vibe that is just perfect for the summer. A combination of simplicity and style, this elegant nightgown will certainly become her favorite comfort wear!
4. BLUE AND WHITE COTTON STRIPE WOMEN'S PYJAMA BY SHARARAT
A pair of cosy PJs is a must-have for any woman who treasures comfort. And one of the factors that make this outfit an essential part of your wardrobe is its versatility. That's what makes gifting your mum a pair of pyjama pants an excellent idea.
Here's a comfy and classy ladies' pyjama online option for your mom. The best part is, this elegant blue and white striped pyjama by the House of Shararat can be styled in several ways. Pair it with a basic tee for a cozy sleepwear outfit or a solid white or blue kurta for a chic daytime outfit.
It is made using soft and breathable cotton fabric that ensures maximum comfort and is quite durable. The elasticated waist makes these pyjamas for women easy to wear while the two pockets on either side add to its convenience.
5. DARK GREY FLORAL PRINTED RAYON WOMEN'S NIGHT SUIT
A lovely combination of subtle shades and aesthetic floral print, this pyjama set is an ideal match for those mums who are always looking for something hat ke! What's more, is that this stylish co-ord sleepwear set can seamlessly double up as daily wear or loungewear.
Its relaxed fit along with soft rayon fabric makes it a comfortable option whether your mum plans to relax at home or go for a casual outing with her gal pals. Trust us. If you're looking for loungewear for women online, this delightful number is just the thing for you.
Summing it up…
Make this Mother's Day extra special by giving your mother the gift of comfort. These chic sleepwear numbers will keep her feeling cozy and relaxed even on the busiest of days.
This sweet gesture will make your mother feel loved, pampered, and appreciated, no doubt! But most of all, be sure to set aside some dedicated time to celebrate this special day with her! Happy Mother's Day!
FAQs
Q. What to give my mom on Mother's Day?
A. If you are looking for a thoughtful and useful Mother's Day gift for your mother, look for comfortable sleepwear and loungewear online. You can choose from a range of options including pyjama sets, night suits, nighties, kaftan dresses and pyjamas.
Q. What are the best pyjamas for women who get hot at night?
A. If you tend to get hot at night, wear pyjamas or pyjama sets made with breathable fabrics like linen, bamboo and cotton. These fabrics are soft and comfy and allow the air to circulate, keeping you cool and comfortable. These also help wick away moisture from the skin.
Q. Why is a pyjama the perfect gift?
A. Pyjamas can be the perfect gift for your loved one because they are practical, comfortable and useful. Giving your mom a pair of chic and cosy pyjamas is a great way to show her that you care about her comfort. To make sure she really enjoys this thoughtful gift, choose a pair of cotton pyjamas for ladies that are stylish and crafted with soft and breathable fabrics like cotton.
Q. What is the best thing for women to wear for sleep?
A. That ultimately depends on your personal style and preference. However, it is recommended to go with sleepwear or loungewear for women made using soft, absorbent and breathable fabrics like cotton, silk or bamboo. A few popular options for comfortable cotton sleepwear are coord sets, sleepshirts and night dresses. If you prefer more coverage, go with nightwear for women like night suits, cotton pyjamas for ladies, kaftan nighties or nighties.