6 Summer Pyjama Party Ideas for Girls' Sleepover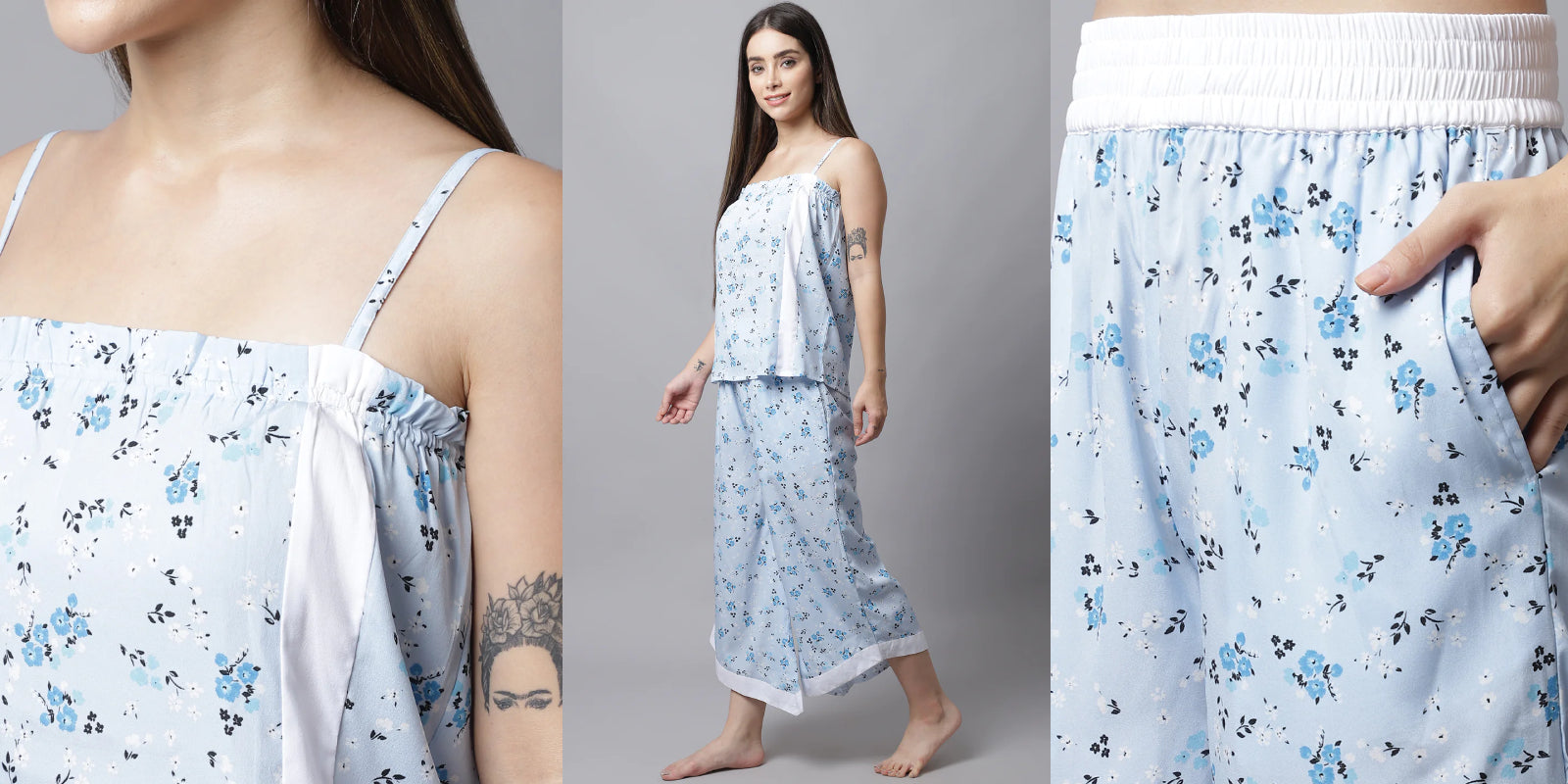 1) RED AND WHITE LEHERIYA PRINT COTTON KAFTAN DRESS
Are you the fashionista of your girl gang? Then this pretty leheriya print kaftan is just what you need to be an absolute stunner at your next slumber party! The combination of bright red color and subtle white color gives this kaftan dress a cool and classy appeal. The comfy cotton sleepwear offers a loose-fitting but comes with a drawstring at the waist so that you can adjust it according to your liking.
Style Tip: Wear your kaftan dress with a chic belt, statement necklace, fringed vest and ankle boots with tassel details to create a boho look. For a more traditional look, wear your kaftan dress with white wide-leg pants or palazzos.
2) WOMEN'S ALL EYES ON SPONGEBOB PYJAMA PANTS - YELLOW
This one's for all the whimsy and quirky trendsetters who love standing out from the crowd. If Character-themed outfits are your thing, then these quirky SpongeBob pyjamas for women are a must-have for your collection.
Indulge in a night of carefree fun or enjoy a relaxing evening, these relaxed-fitting cotton pyjamas will make sure you stay cool and cosy. The best part is, these super cute cotton women's pyjamas are pretty easy to style. You can wear them with other wardrobe basics like a black/white tee or a tank top.
Style tip Create a smashing casual look with your SpongeBob pyjamas by pairing them with a black crop, a pair of sneakers and an oversized shoulder bag!
3) YELLOW FLORAL PRINTED WOMEN'S NIGHT SUIT
Looking for something traditional, trendy and feminine? If yes, then this yellow-printed women's night suit is just the thing for you. This adorable printed pyjama and top set gives off a chic and playful vibe and looks effortlessly fashionable.
The outfit features an intricate floral pattern against a multi-shaded yellow background, creating a vibrant and summery aesthetic that's just perfect for your pyjama party. Made using soft and breathable cotton fabric, this easy-fitting outfit is a great option for everyone who prioritizes comfort, especially if you have sensitive skin or tend to get sweaty at night. Additionally, the PJs feature convenient pockets on either side, perfect for keeping your essentials handy.
Style Tip Tuck the top into the pyjama bottoms and add a statement belt to cinch the waist. Alternatively, you can half-tuck the top and skip the belt for a relaxed look. Complete your casual day look with a pair of sandals or sneakers. You can enhance this look with simple, minimalist jewelry and a tote bag!
4) WOMEN'S COTTON NIGHT SUIT TOP AND SHORTS SET -BLUE
Get your diva mode on and let the party begin with this pair of cute and trendy shorts co-ord set. The light and comfortable cotton fabric and soothing blue color make this ensemble an excellent option to wear at the beach, at a slumber party or just for a casual hangout with friends. The top offers a flared fit and features shoulder straps and ruffled detailing at the neckline, giving it a chic and youthful appeal. The bottom also has a comfy fit and comes with a pocket on either side to hold all your necessary items.
Style Tip Wear this chic cotton sleepwear with a pair of flip-flops or sliders for a cool loungewear look. You can also throw in complementing accessories like a pair of hoop earrings, a chunky bracelet and a silk headband for a more elevated look. If you love layering your look, consider putting on an oversized shirt or a printed shrug to complete the look.
5) BLACK AND WHITE CHECK KNEE-LENGTH RAYON SLEEP SHIRT BY SHARARAT
Nothing can be more cathartic than unwinding with your BFFs while snuggled up with a blanket and hot cuppa. But to truly elevate this experience, comfort is key. And this delightful black and white shirt dress has been designed to ensure utmost comfort. It is made using premium rayon fabric that feels super soft against the skin, the loose-fitting design not only ensures you don't feel restricted but also allows air to circulate freely, keeping you cool and cosy. And yes, let's not forget the super convenient side pocket which makes it easier to store nitty gritty The classy combination of black and white along with its contemporary and feminine aesthetic makes this dress an excellent option for every fashion-forward diva!
Style Tip Use this sleep shirt for creating a smart daytime look by wearing it unbuttoned over a fitted tank top and a pair of leggings. Complete the look with a long pendant necklace, oversized earrings and a pair of flats.
6) BLUE WOMEN'S COTTON PRINTED SHOULDER STRAPS NIGHT SUIT BY SHARARAT
Whether your pyjama party is just a cosy night in or a crazy night out, make sure to keep it stylish with this super glamorous cotton printed pyjamas and top set. This pyjama set comes with a flowy, strappy top and flared, ankle-length bottoms, giving a youthful and boho aesthetic. The refreshing cool blue color, paired with intricate floral designs, adds to the summery appeal of this co-ord set.
And since it is crafted with premium quality cotton fabric, you can rest assured that you'll be wrapped in luxurious comfort all night long. Feel stylish, comfortable and confident in this elegant number and be the star of your slumber party!
Style Tip This versatile number can effortlessly transition into loungewear or a casual daytime outfit. Pair it with a tote bag, a pair of sandals, and your sunglasses for a laid-back yet stylish look.
Summing it up…
Why sacrifice comfort for style when these stunning numbers can give you both? Feel confident and comfy through the day (or night) with these amazing outfits that can be used as bedtime wear, loungewear and casual wear, depending upon your mood. So bid adieu to your wardrobe dilemmas and make space in your closet for your perfect Shararat (mischievous) outfit. Happy shopping!
FAQs
Q. What is the dress code for a pyjama party?
A. There is no universal dress code for a pyjama party. If you haven't been informed of a particular dress code, you can pick any nightwear or loungewear that's comfortable and stylish. A few top picks for pyjama parties include pyjama sets, pyjama pants, shirt dresses, kaftan dresses, and short and top sets. Whatever you choose, make sure not to overdo the look. You may want to keep it simple and avoid loud accessories.
Q. What should I wear with pyjamas?
A. That depends on the look you're putting together. For a nighttime look, pair your cotton women's pyjamas with a basic tee or tank top. For a casual, daytime look you can wear your cotton pyjamas for ladies with a graphic tee or a crop top, and add a few accessories like a statement necklace or hoop earrings. What you choose ultimately depends on your personal style.
Q. What do you need for a girls' slumber party?
A. If you've been invited to a slumber party, perhaps the most important thing you must have is stylish and comfortable nightwear. You may also want to carry along essential items like your toiletries, phone charger, makeup, slippers etc. don't forget to check in with the hostess and see if you need to bring along sleepover essentials like a pillow, blanket or a sleeping bag.
Q. How should I dress for a slumber party?
A. That depends on the theme (if any) of the party and your personal style. You can choose from a range of options including cotton pyjamas, short sets, pyjama sets, nightdresses, shirt dresses, and onesies.