These 5 Types of Sleepwear Every Women Must Have in Her Wardrobe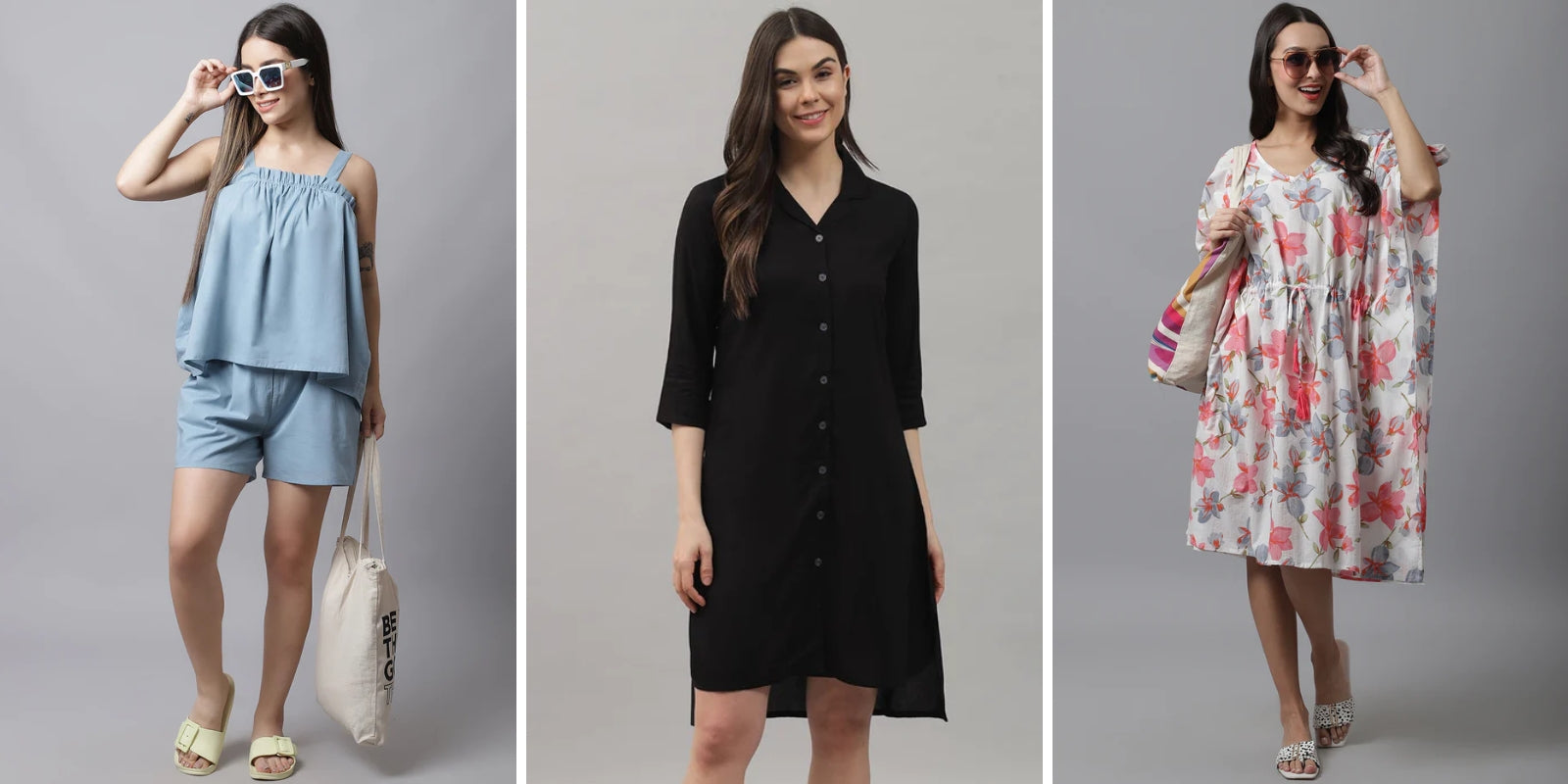 Night Shorts Set
TIf you want to push up the comfort quotient of your nightwear wardrobe, then you must add a short and top/tee set to it. This cute, sensual and comfortable night suit comes in several sassy designs and styles. When it's about comfort, a short set is an ideal choice, especially during the summer.
You can find sets with tees, buttoned-down shirts or tops. Wear it as is or mix and match the pieces with other wardrobe basics to create a new style, the choice is yours.
This floral printed women's night suit shorts set by Shararat is a good option if you are looking for something mellow but stylish. Or pick this stylish cotton top and shorts night set that you can wear at a girls' night out or take with you on your next vacation!
Sleep Shirts
If you're looking for a no-fuss, easy breezy option, then a sleep shirt is the right sleepwear for you! Just slip into one after a tiring day at work and let your skin breathe! These are usually knee length (or a little longer or shorter), loose fitting and come in a range of designs and colors! Night dresses are a good choice for all seasons but work best when the weather is hot and humid.
Nightshirts are pretty versatile. You can use them as a dress, or lounge top or match them with a snazzy PJ for a pyjama party! They come in a slew of designs, colors and styles for you to choose from. From lounge T-shirts to buttoned-down shirt dresses at Shararat, you'll find all the latest trends in nightshirts.
This solid black rayon sleep shirt dress by Shararat is minimal and stylish for a subtle but elegant look. Or you can opt for this classic and vibrant red cotton sleepshirt instead.
Kaftan night dress
Kaftans have been in style for quite some time and look like they are here to stay. They not only look very elegant but are super comfy as well. A breezy kaftan shirt dress can be the perfect companion for a restful night's sleep. It'll keep you snug without restricting your movement. Kaftan dresses come in a range of styles and designs for you to choose from. Choose a short nighty kaftan with pockets or lace details and you can use your kaftan nightsuit as a casual dress.
This lovely floral print cotton kaftan dress by Shararat will give your nightwear wardrobe an instant upgrade. Or choose this short kaftan dress that's a delightful combination of shades of green and black.
Nighties
Nighties and maxi dresses have been a woman's BFF since time immemorial. But unlike before, you have dozens of styles to choose from now! A nighty lets your body move and breathe so that you can have a refreshing sleep. The best part is, these come in a range of styles, designs, prints, colors, lengths and sleeve types.
From sweltering summer nights to chilly winters, there's a nighty for every season. Pick a light and breezy cotton nighty for warmer days. And keep a snug woolen one for the winter. If a long cotton nightgown isn't how you define comfort, go for a knee-length one instead.
At Shararat you'll find a maxi dress or night for every mood! This floral print short and sleeveless cotton nighty is the best choice for a self-care day at home. Or how about this solid print long woolen nighty to add some color to boring winter nights? Choose from a range of delightful nighties and maxi dresses from our exclusive collection.
FAQs
How do I choose nightwear?
Here are a few things you need to take into account while choosing nightwear - comfort, body type, personal style, and fabric.
Which material is good for night wear?
Cotton, rayon, wool, fleece, linen and silk are a few common fabric choices for night wear. These are quite comfortable and can ensure a good night's sleep. Cotton sleepwear is known to be lightweight, soft and breathable. Plus, it's easy to maintain and is quite durable. For winter, it's better to pick a woolen night suit.
What do girls wear at night in bed?
That's a matter of personal style and preference. Nighties, pyjama sets, night shorts sets, maxi dresses, pyjama pants, nighty kaftans and shirt dresses are some of the most popular sleepwear for women and girls.