Spice Up Your Relationship: Exciting And Intimate Couple Gifting Ideas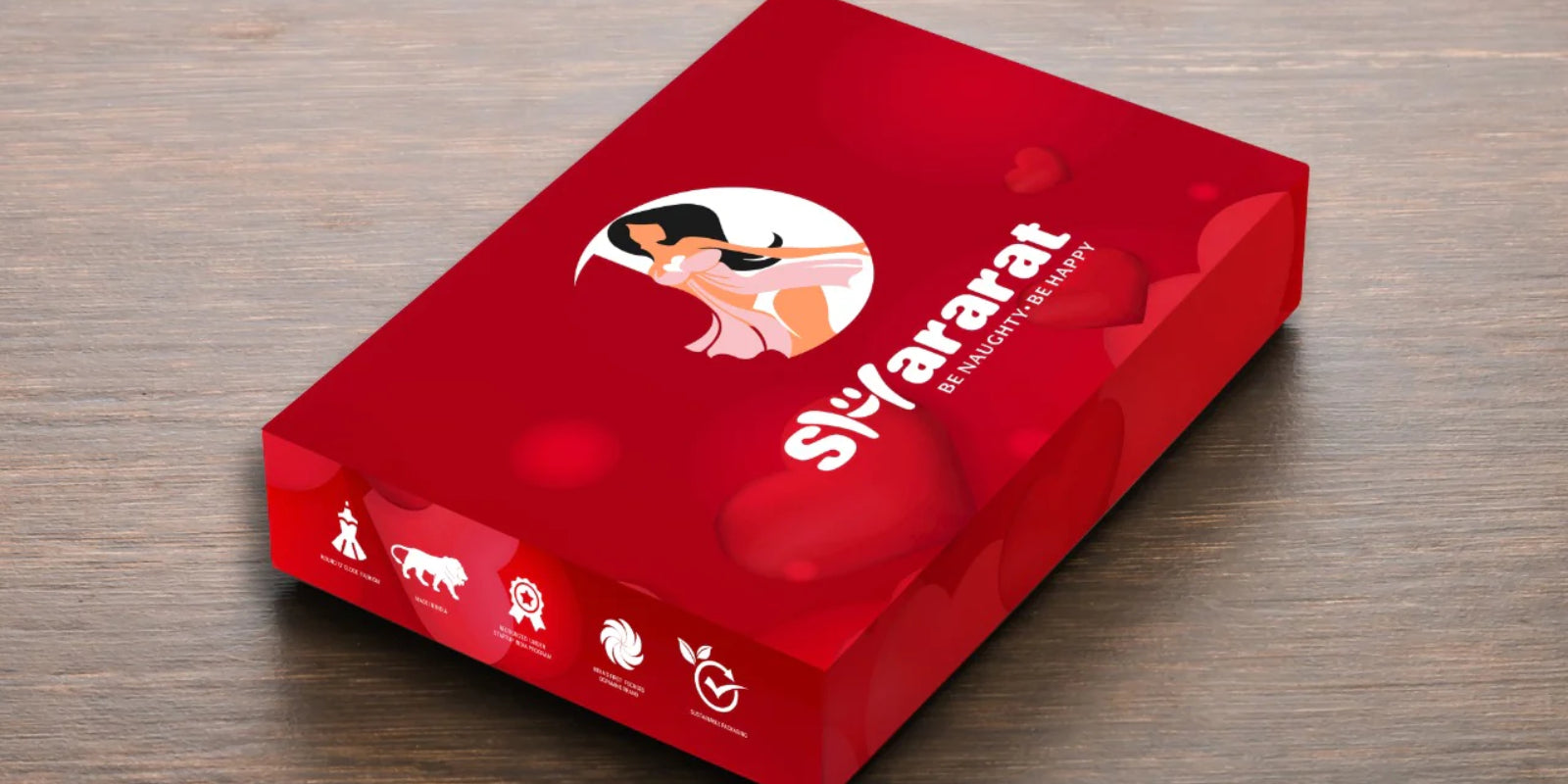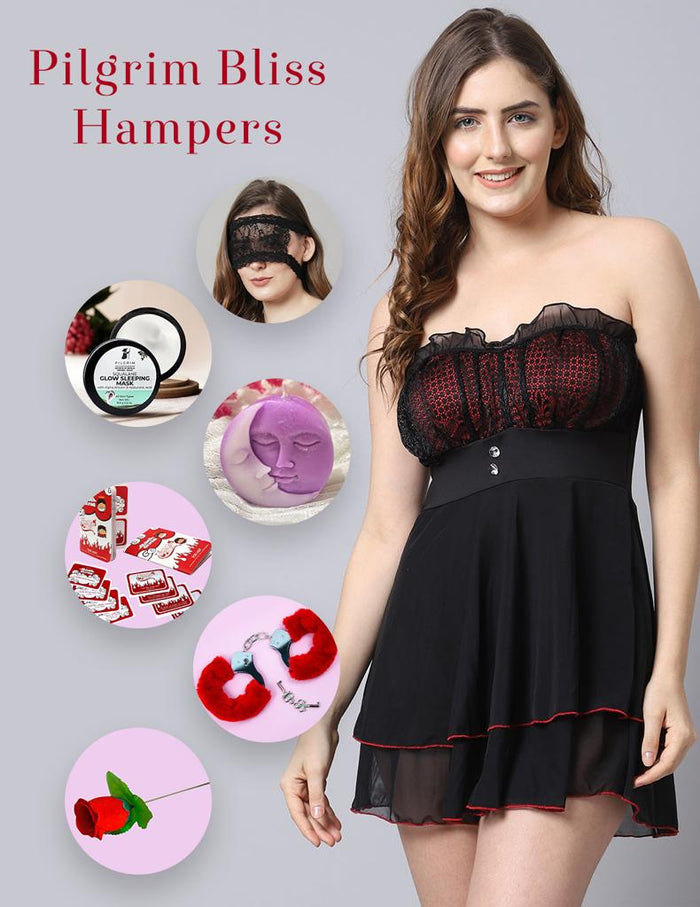 1. PILGRIM BLISS HAMPERS BY SHARARAT- BLACK
The Pilgrim Bliss gift hamper is a treasure trove of sensuality for partners seeking to re-ignite their passion. The combo comes with a mesmerizing babydoll dress and a selection of spicy add-ons. This semi-transparent intimate nightwear features an easy-fitting silhouette that cascades sensuously over every curve. The bust area is crafted with beautiful lace fabric while the frill details give this lingerie dress a cute and sexy appeal.
The hamper comes with love coupons, a set of handcuffs, an eye mask and a rose to heighten your intimate escapades. The aromatic candle will further help in setting the perfect mode for the night.
But hey! that's not all! The hamper also contains a luxurious Pilgrim Squalane Glow Sleep Mask to ensure you wake up with a luminous glow the morning after!
2. RISKY-FRISKY NIGHTS HAMPER LACE ABOVE KNEE BABYDOLL DRESS- RED
Love is a gift that keeps on giving, and so is our exquisite Rishky-Frisky Nights hamper! This box of seductive surprises contains a scintillating red hot short babydoll intimate wear, crafted to give you that irresistible naughty and nice look. The fitted top and flowy bottom along with the use of intricate lace fabric give this honeymoon dress an enticing and tasteful appeal. So if you're looking for something sensual but not too daring, this babydoll dress for your honeymoon is the perfect pick for you!
This exciting hamper also contains a beautifully scented candle that'll help you create an ambiance of pure romance. Accessories like handcuffs and a red rose further add to the thrill of your special evening together!
3. LOVE HAMPER LACE ABOVE KNEE BABYDOLL DRESS - WHITE
This delightful package comes with adorable white babydoll nightwear with a captivating deep neckline, strappy shoulders, a playful back and attractive frill details. Its flirtatious short length and form-fitting design further add to the playfulness of this number. The adjustable straps and elasticated bust line ensure perfect fit and optimum comfort.
The box also contains a beautiful red rose and an exquisitely scented candle with a captivating design and alluring aroma to help you create a truly mesmerizing atmosphere. You'll also get two sets of specially tailored love coupons (for him and her) that you can cash for passionate encounters when the mood strikes.
4. LOVE HAMPER LACE TEDDY DRESS - MAROON
Our Love Hamper comes packed with naughty surprises that'll help you unlock new dimensions of intimacy and rekindle the passion in your relationship. Here, you will receive beautifully crafted lace teddy babydoll nightwear, the perfect choice for those who define their style as bold but classy. The backless silhouette along with the playful extended slit in the front give this babydoll dress a daring appeal. Enhanced by its deep maroon color, this outfit radiates a sensual allure that is simply captivating.
The package also contains playful love coupons, tailored to add excitement and fun to your relationship. The pretty fur handcuffs and lace eye masks, add an element of tantalizing restraint and sweet surrender to your romantic escapades. The red rose and the scented candle are also essential to weaving an atmosphere of romance and passion!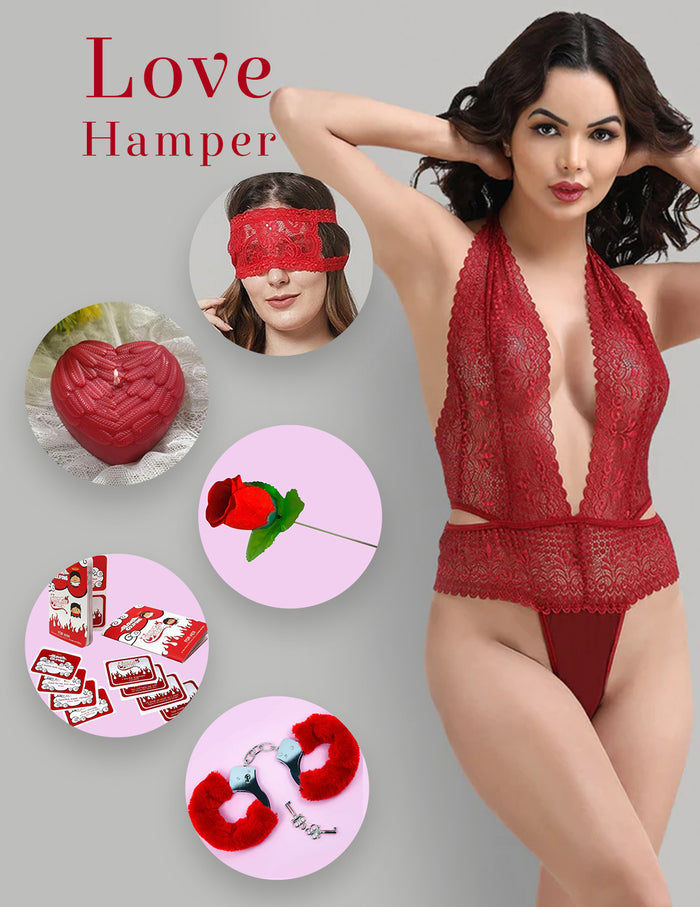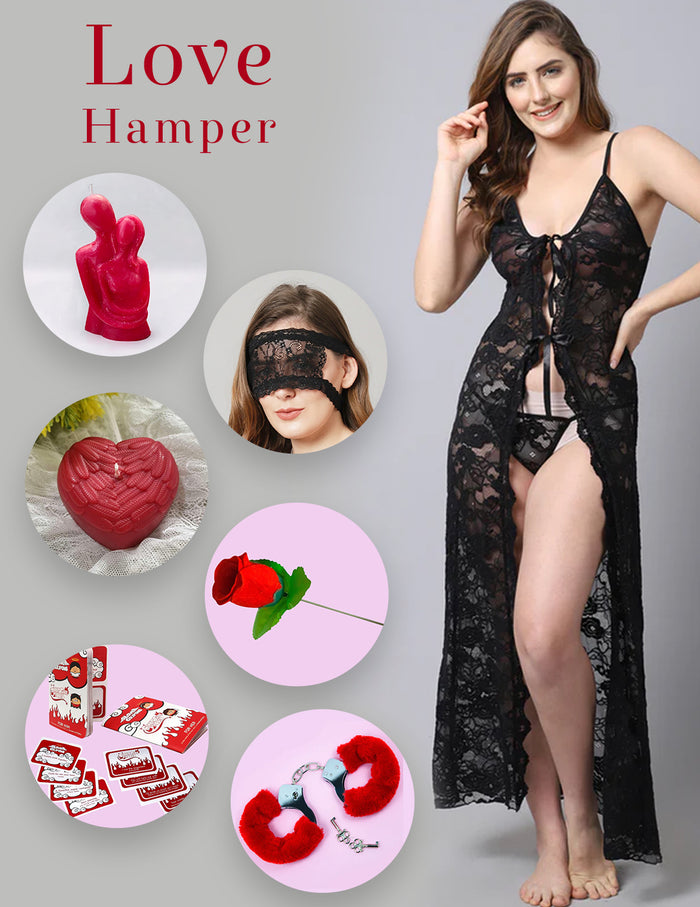 5. LOVE HAMPER LACE LONG BABYDOLL GOWN- BLACK
Let the sparks fly as you ignite the flames of passion and redefine boundaries with this variation of love hamper. Instead of teddy bridal nightwear, this delightful surprise comes with a sultry black babydoll gown. This full-length, high-slit babydoll gown is all you need to add more elegance to your bedroom fashion.
Wear this naughty bedroom wear over a lingerie set or any other sleeveless intimate wear, the choice is yours. Made using pretty floral lace fabric, the alluring lingerie dress feathers an open front delicately held together by ribbon ties. Thin shoulder straps and a bold neckline further add to its magical charm.
Pair this tasteful number with a pair of boots or high heels and let your inner femme fatale take the wheel for the night!
Alongside this mesmerizing babydoll nightdress for honeymoon, the package also includes heart and couple-shaped fragmented candles, a lace eye mask, a red rose, couple love coupons, and a pair of handcuffs.
Summing it up…
Escape the monotony of boring days and add some spicy magic to life with our exclusive love hampers! No matter what budget you are working with, we've something for everyone. And oh! Did we tell you that these exquisite couple love hampers come in the most beautiful packaging ever? That's right. All your goodies will come discreetly packed in a gorgeous red box. So what are you waiting for? Head over to Shararat right away and let the fun begin!
FAQs
Q. How do you prepare for a romantic night at home?
A. set up the right ambiance with mood lights and soft, romantic music and make sure to prepare/arrange for your partner's favorite meal to make the evening more special. Also make sure to have a comfy, cosy setting where you can indulge in some precious intimate moments. Dress right for the occasion and choose an intimate dress option that is not only sensual but also super comfy. A few great night dress options for this occasion would be babydoll dresses, babydoll gowns, short sets, teddies and short nighties.
Q. How can I look cute in sleepwear?
A. To look cute in sleepwear, you need to choose the right option. A cute pair of PJs along with a cami gives a casual and cool look. You can also go for printed pyjama sets with cute floral designs or cartoon character prints. Short sets in soft, feminine hues also work great. Other night dresses you can opt for include shirt dresses, sleep shirts and sleeveless nighties. For a cute but seductive look, opt for sensuous intimate night wear like a short babydoll lingerie. Find an exquisite collection of cute and comfy bedroom wear for ladies at Shararat.
Q. What do you wear under a babydoll dress?
A. This fun and naughty bedroom wear is usually worn over lingerie sets. In case your babydoll nightdress for honeymoon comes with an elasticated bustline and offers a snug fit, you may avoid wearing a bra under it. You can also consider wearing a bikini or a g-string under your babydoll bridal nightwear.