The Ultimate Guide To The Best Women's Sleepwear Styles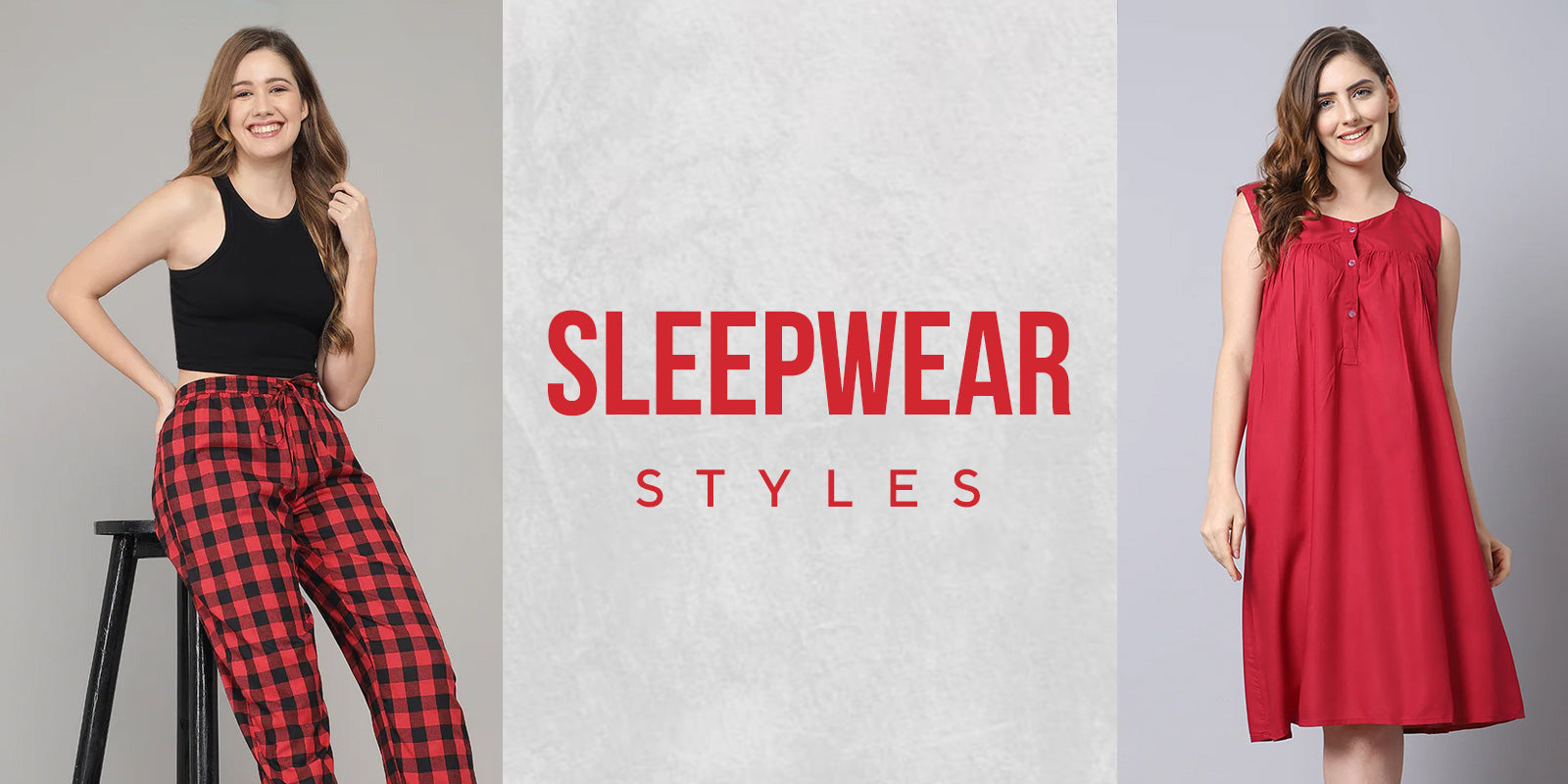 1. YELLOW & BLACK WOMEN'S COTTON PRINTED NIGHT SUIT
Don't you wish you could just roll out of bed on your day off and not be in a hurry to change into more 'presentable' clothes? With these fun yellow and black printed pyjama sets, you can lounge in comfort and style day and night! This sleepwear set also doubles up as activewear if you plan on going for a jog or a light workout! The light and breathable cotton fabric ensures you stay cool and easy.
The striking combination of solid black knit cotton pyjamas for ladies with a printed yellow tee gives this outfit a subtle but attractive appeal. And if you love mixing and matching outfits, you can use each piece individually along with other wardrobe basics to create a variety of cool and casual looks!
2. BLUE WOMEN'S COTTON PRINTED SHOULDER STRAPS NIGHT SUIT BY SHARARAT
Add a touch of glamor to your bedtime routine with this super savvy rayon night suit set. The strappy top and flared bottom give this pyjama set a cool, urban look while its calming blue hue adds to its subtle charm. Features like the comfy rayon fabric, a relaxed fit and an elasticated waistband (for the bottom) all add up to make this outfit a comfortable option to lounge in all day (and night!). And yes! IT HAS POCKETS! Style, comfort and convenience, this on-trend outfit is for every woman who loves effortless fashion!
3. WOMEN'S F IS FOR FRIENDS SPONGEBOB PRINTED KAFTAN WITH POCKET
Not showing off this chic and cheeky kaftan dress to all your friends is going to be pretty hard! With its playful graphic print, vibrant colors and beautiful silhouette, it's the perfect addition to your sleepwear and loungewear wardrobe. This easy breezy cotton kaftan night suit comes in soothing shades of blues and yellows and gives off a happy vibe. It offers a loose and flowing fit, so you don't have to worry about feeling constrained or uncomfortable tight spots. Plus, it's convenient and ensures you don't struggle with zippers or buttons in the middle of the night.
Not a fan of baggy clothing? No problem! This light and breathable cotton kaftan dress comes with an adjustable waist so that you can customize the fitting according to your liking.
4. RED AND BLACK COTTON CHECKS WOMEN'S PYJAMA
Your sleepwear collection is incomplete without a trusty pair of cotton pyjamas for ladies that you can slip into after a long and tiring day. These classic red and black check pyjamas can be teamed with a basic black or white tee, camisole or tank top to get a cool and casual look. Crafted with comfortable cotton fabric, these PJs are the perfect option for those who like to keep it comfy and cosy.
What's more is that these pyjamas are a great sleepwear option all year round. The full coverage ensures you stay snug during chilly winter nights while the breathable cotton fabric aids in keeping you cool during hot and humid summers. You can buy these ladies' pyjamas online at Shrarat to add a little versatility and a lot of comfort to your daily wear collection.
5. WOMEN'S LACE ABOVE KNEE BABYDOLL DRESS/ NIGHTWEAR LINGERIE - PINK
Pump up the glamor quotient of your sleepwear wardrobe by adding a few bewitching bedroom wear pieces to the mix. This babydoll outfit is made with exquisite floral lace fabric and features cute detailing like bows and frills to give you a naughty and nice look. The fit top and flowy bottom of this cotton sleepwear offer a beautiful silhouette while its thin shoulder straps and deep neckline add a pinch of naughtiness to the whole look.
Not only does this cute number tick all the right boxes when it comes to glamor and style but also offers absolute comfort! Pack it up for the next vacay or use it as sleepwear, you could never go wrong with this pretty pink babydoll dress!
6. WOMEN'S RAYON SOLID NIGHT DRESS WITH FRONT BUTTONS -RED
Slipping into this elegant night dress is like an antidote for a tiring day. Crafted with soft rayon fabric, the dress is a top choice for those who want comfort but without compromising on style. Its knee-length cut and sleeveless design will keep you cosy without feeling restricted.
But comfort is not all that this dress has to offer. The cheerful red color and effortlessly flowy give off a feminine and upbeat vibe that you're gonna love. If you love simple, no-fuss fashion, this sleepwear basic is a must-have for your collection.
7. MULTICOLOR FLORAL PRINTED COTTON WOMEN'S NIGHT SUIT-SHORTS SET
Looking to buy sleepwear or loungewear online? Here is another trendy cotton sleepwear that you'll not want to waste at home. With its traditional floral print and its uber-modern design, this glamorous co-ord set offers the best of both worlds! Its light and breathable cotton fabric and calming colors make this outfit ideal for warmer days. The best part is, this subtle but glamorous cotton sleepwear set is quite versatile. Use it as cosy sleepwear, comfy loungewear or a cool casual outfit, the choice is yours!
8. NAVY BLUE & WHITE WOMEN'S LEAF PRINT COTTON NIGHTY
Fashion trends may come and go, but the mighty night is here to stay! This classic and traditional nightwear has stood the test of time and how! And while the dress has transformed tremendously over the years, a nighty is still synonymous with comfort and ease of wear. This stylish and feminine blue and white cotton nighty offers full coverage and easy fit, making it a practical choice for sultry summers as well as cold winters.
The delightful leaf prints further add to the charm of the elegant and chic dress. The outfit features attached half ties at the back that not only help enhance its overall glamor but also lets you customize the fit to your liking.
Summing it up…
From classic styles like ladies' pyjamas online to latest trends like short babydoll dresses, Shararat's sleepwear collection is a mix of style, quality, variety, and affordability. These in-vogue outfits will surely give you the comfiest slumber and the sweetest dreams. All you have to do is slip into your favorite sleepwear outfit, grab some popcorn, gear up to Netflix-and-chill your way to dreamland. Happy snoozing!