Make outings comfortable with Loungewear!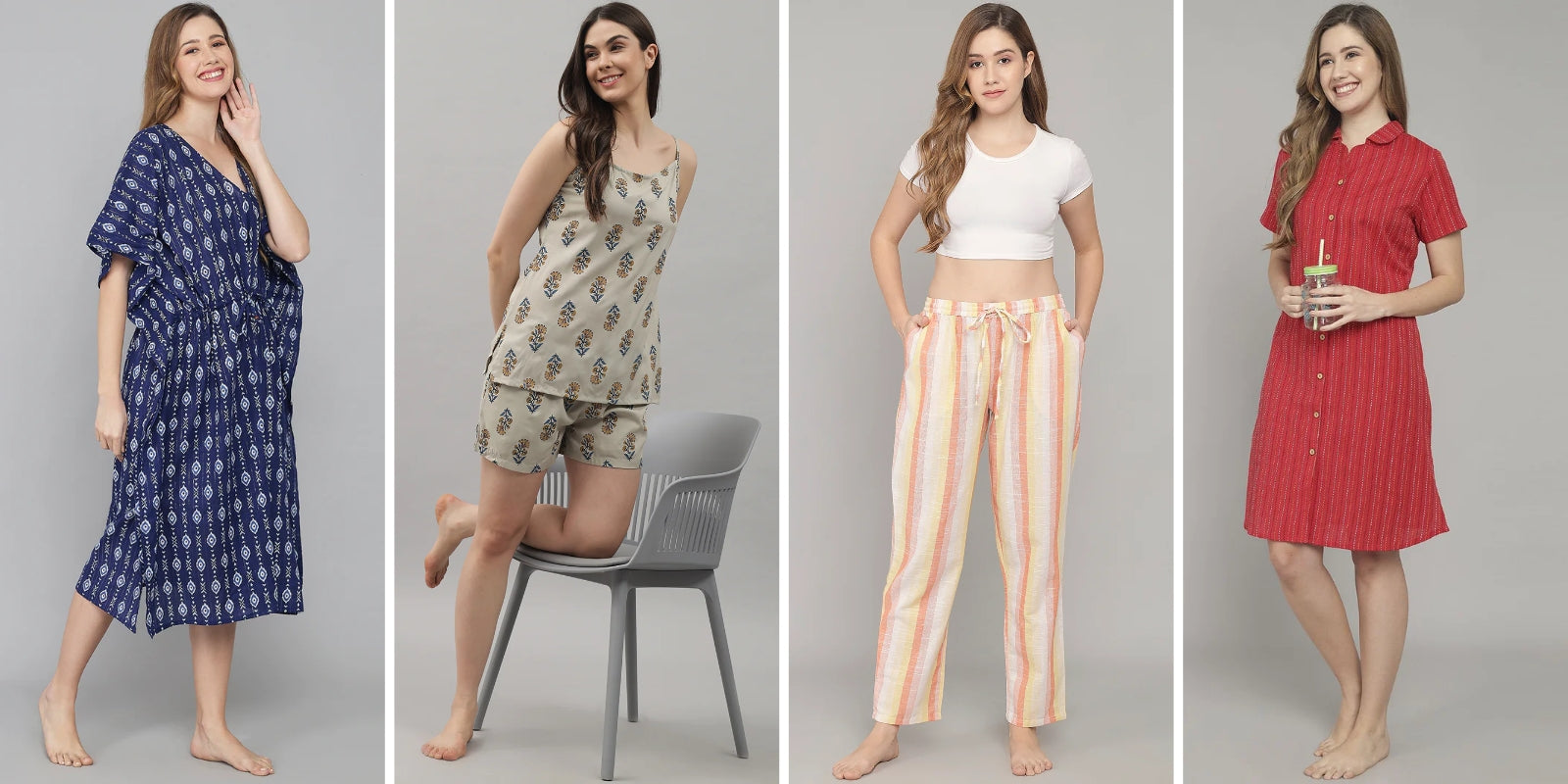 Kaftans
Lazing around home, wearing a kaftan! Your partner wants to have a coffee! Coffee date and you aren't ready? Don't want to spend a lot of time in getting ready? We have an idea- pair it up with high boots and a nice dazzling pair of earring! Wear lush pink lipstick and ta-ta-na you are date ready already!
Co-ord Printed Night Suits
Got up late on a Sunday! Having your coffee in the bed, suddenly friends called to have a delectable Sunday brunch. You nudge to get out of a lazy you but still don't want to miss the brunch! Pair your Co-ord Printed Night Suits with a lovely hairband, a nice watch and sport shoes! You are ready for your Sunday brunch girls. And don't forget to wear oversized sunglass to complete the look.
Striped Pajamas
Going for a vacation? Confused about your airport look? Don't want to compromise on your comfort and compromising on your style is out of question! Striped grey pajamas from Shararat can be your answer. Own these pajamas and create the most stylish look without ignoring your comfort. Style it up with white oversized shirt, a pair of loop earring and canvas shoes to complete the look.
Shirt Dresses
Show off your minimalist style with blue striped shirt dress from Shararat. Perfecting street-style edge sleep shirt by Shararat is youthful yet understated attires. Providing both leisure and comfort, Shararat cater for a wide range of tastes. Add a contemporary twist to your wardrobe and update your key street style outfit. Pair it up with chunky trainer for the ultimate uber cool look. Shirt dresses are good as a night wear and better as cool attire for your lazy day!
DRESSED UP LOUNGEWEAR
Everything leaves a positive impact on our lives and so did pandemic, thanks to COVID19 our style statement is no more only about fashion but also about the comfort. Comfort today is as important as looking good! From bedroom to boardroom, same comfort can be felt. Remember comfort makes our soul happy and when the soul is happy, nobody can look as beautiful and stylish as you can. Loungwear by Shararat is here to do just that, make you and your sould happy! #behappy #benaughty