5 Ultimate Luxury Bedroom Wear Designs: Her Secret To Insatiable Passion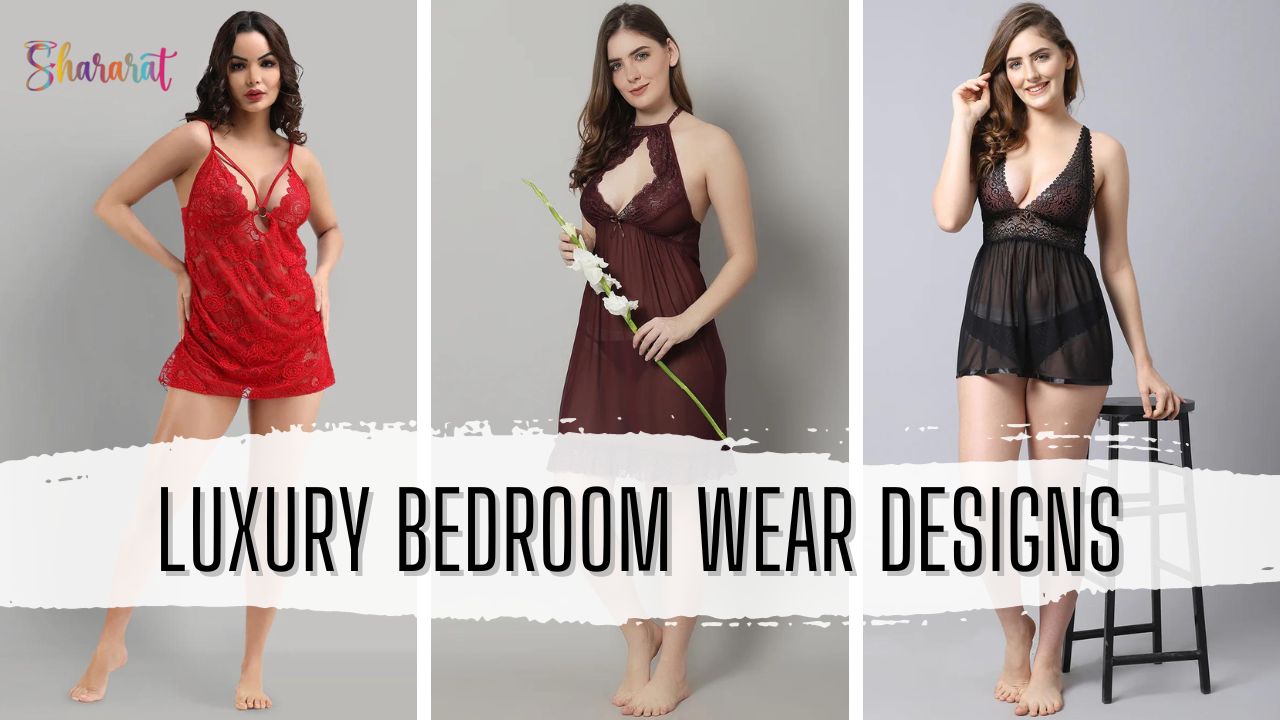 A wild, memorable night is not just about loving each other but also about loving ourselves. The right kind of bedroom wear for ladies can quadruple their desire to be intimate by making them feel seductive, gorgeous, and luxurious. The dark, embracing colors of ruby red, midnight blue, magical green, and delicious vermilion make a girl feel like an absolute goddess. Now, enter this hypnotic world of feeling good and loved by choosing suitable nightwear for your next bedroom date! Beyond these essential things, there are a few other aspects that you need to consider before settling for a honeymoon dress or bedroom wear outfit. Keep reading to know more!
Making It Intimate - Know What Pleases Her More
What most men do not understand is that bedroom wear for ladies is as much about feeling luxurious as it is about looking sexy. For a girl, a sensual lingerie set makes her feel expensive, delicate, and well cared for - exactly what we need before sharing our innermost expressions and moments with someone. 
Feeling Beautiful In Her Skin
The baby doll nightwear of our dreams celebrates our true selves. These fabulous lingerie outfits are designed to accentuate our best features and enhance the person we want to be during those beautiful, agonizing moments of pleasure. These night dresses bring us closer to ourselves and have helped women worldwide look positively at their bodies and feel good in their skin. It is the ultimate feeling of elegance, without which any intimate connection is incomplete for a woman. 
Seamless, Steamy Fit
A girl wants to explore and enjoy every curve of her body when in bed with the one she loves. Great babydoll set bedroom wears are all made to fit each woman in the most flattering manner. Dark and mysterious shades like black, blue, and crimson bring out the best in every skin and body type without self-doubt or narrow beauty standards. Plus, size bedroom wear hugs our skin from every angle in a way that compels our partners to adore us exactly how we want it. 
Best Grade Lace, Net-Stitched, and Satin Fabric
Quality is class. 'Shararat' is a brand that brings out the playfulness in a woman's sexuality by making her feel comfortable at every touch. It uses top-quality raw materials and invisible, ultimate comfort stitching so that the lingerie feels as soft as a feather. After all, bedroom wear for ladies is about enhancing and celebrating the delicate features of her body and the softness of her form. Now, explore your femininity in a way never before by spoiling yourself with classy bedroom wear. 
Unique Designs That Leave A Mark
Last but not the least, every cut, angle, and design choice is responsible for the overall effect that any lingerie piece has on how a woman perceives herself. The exquisite necklines, arms, and flowing skirts of the pampering babydoll dresses are given form carefully, often consuming months of manual handy work and design choices so that the wearer cannot only feel like an elite princess but know for sure that she is one!
5 Handpicked Nightwear That Celebrates Womanhood - The Countdown
Capture your inner wildness and store it in these carefully selected luxury lingerie sets that flatter women of all ages and intimate preferences. Just take a look for yourself before you believe us!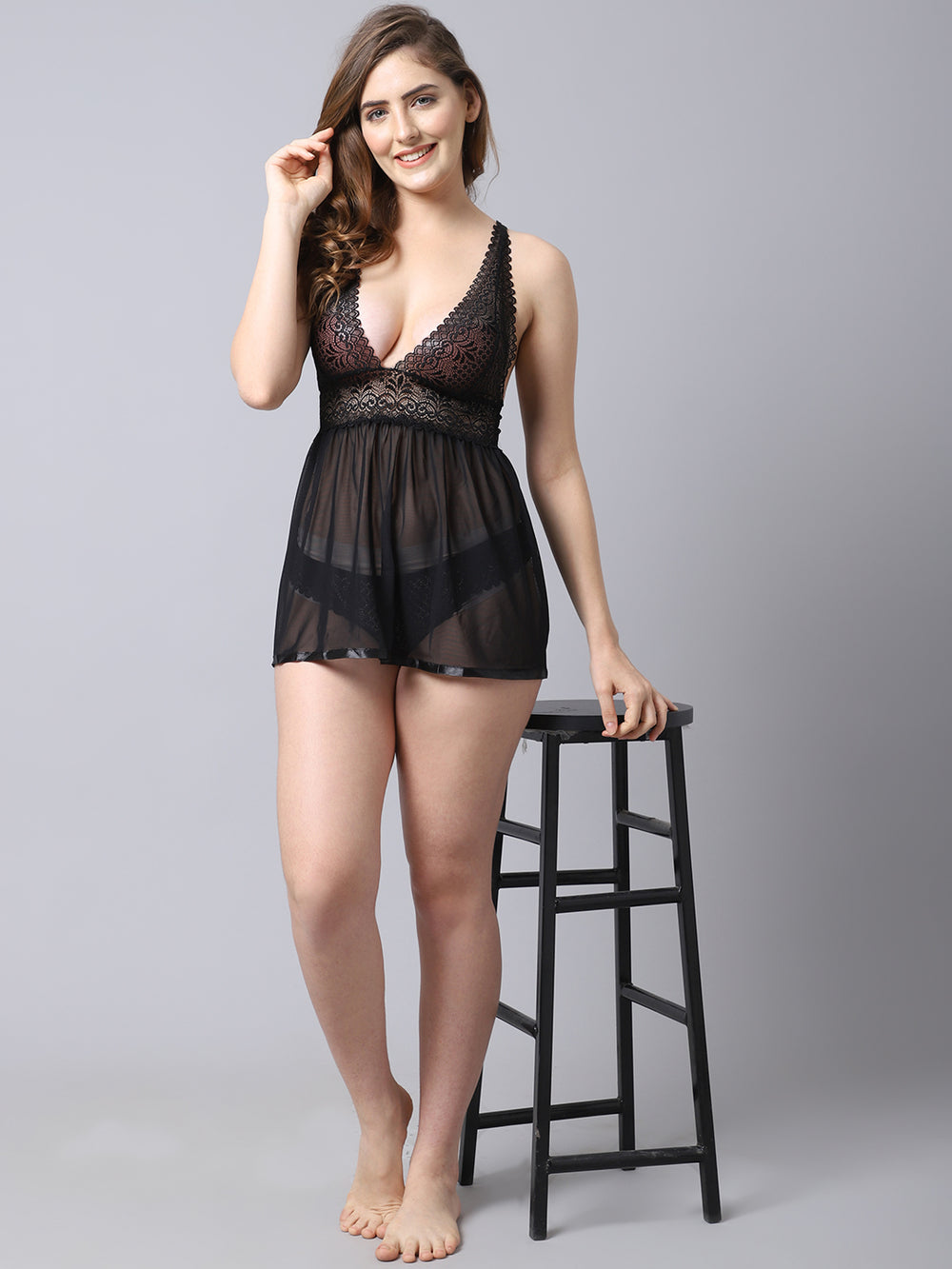 1. WOMEN'S LACE ABOVE KNEE BABYDOLL DRESS/ NIGHTWEAR LINGERIE - BLACK
Say yes to a bold V neckline and cover your body in a lace brocade. Explore the soft side of black as it slowly cuts patterns against your blushing skin and entices your partner by revealing just the right amount of skin. The royal lace design and freeing, frilly skirt of this design redefine the visual appeal of classic lingerie, challenging women to connect with their youthful side and try something of a twist.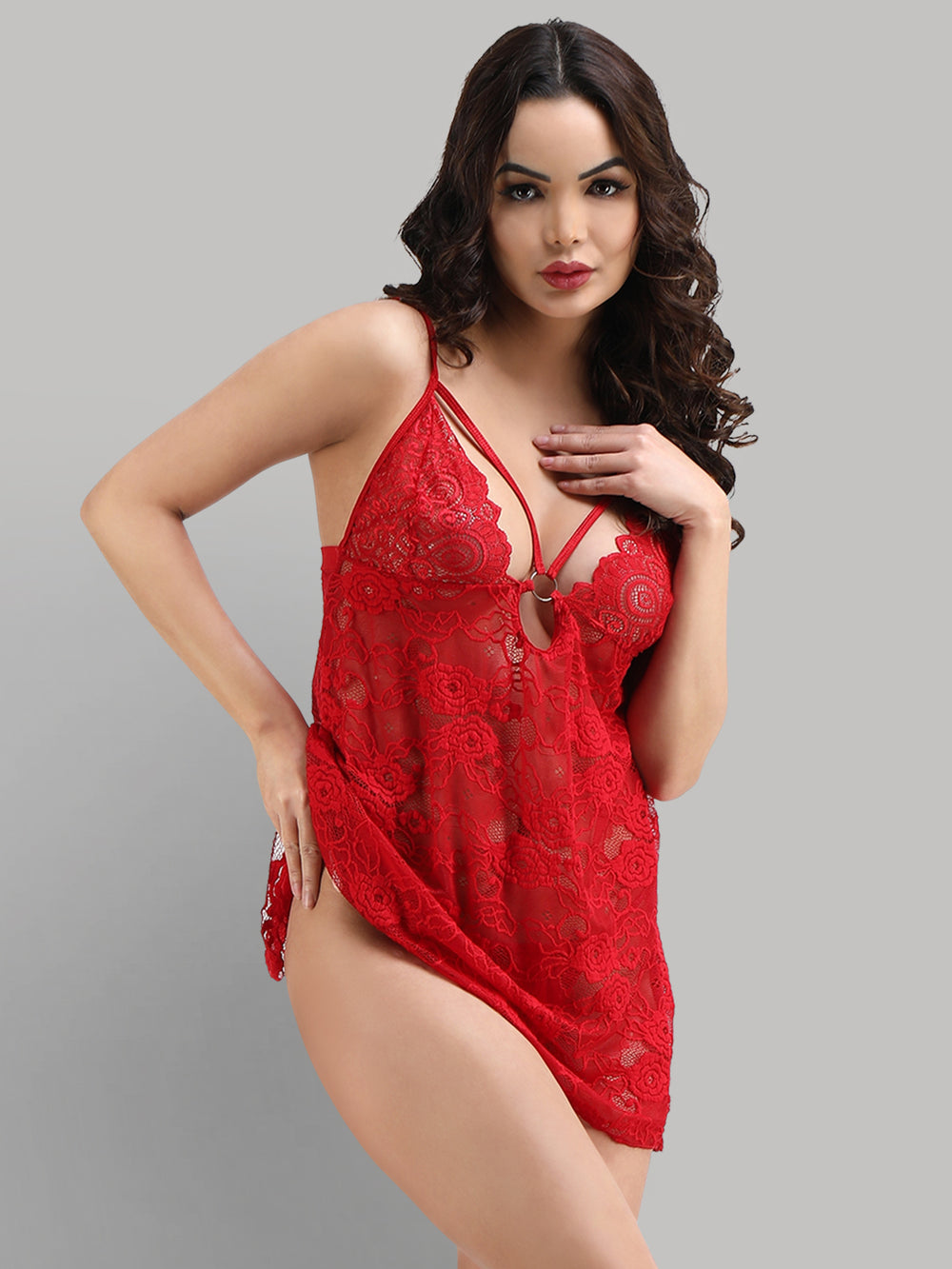 2. WOMEN'S LACE ABOVE KNEE BABYDOLL DRESS/ NIGHTWEAR LINGERIE - RED
No color screams passion as much as Blood Red does. Covered in intricate, multilayer lacing from top to bottom, this star of lingerie has become a best-seller among our customers thanks to its creative spaghetti straps that have combined a sweetheart neckline with a halter one. It is, without a doubt, one of the most elegant pieces for women in the bedroom. Flaunt your chest, waist, and thighs with this one, as it keeps you looking fabulous from every angle!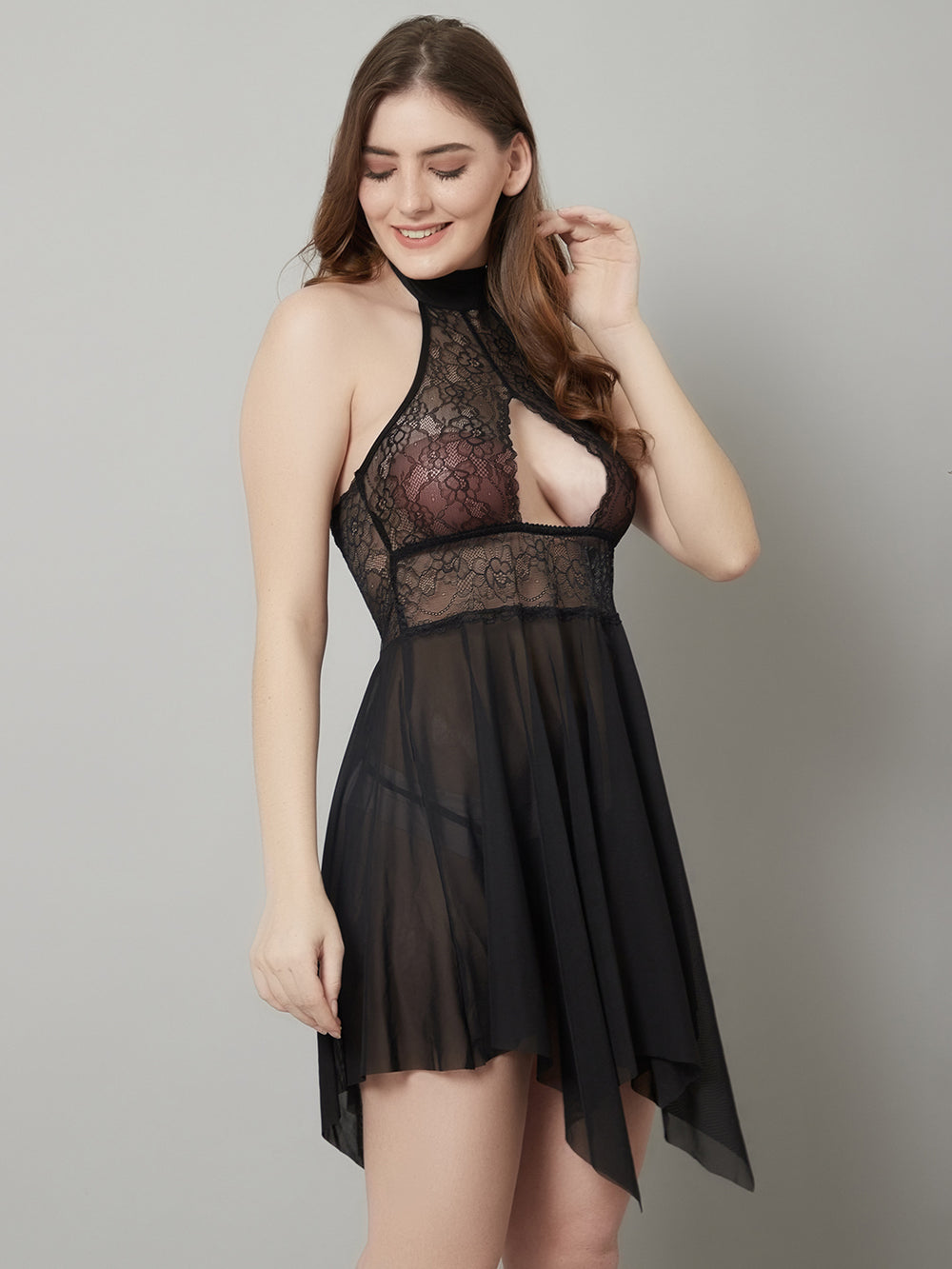 3. WOMEN'S LACE ABOVE KNEE BABYDOLL DRESS/ NIGHTWEAR LINGERIE - BLACK
A longer outfit for those looking for the classic, demure look, this foxy dress can be worn over your favorite panties and bra - not to mention that you can use it to curtain your bare body for a jaw-dropping effect, too! The elastic fit of the chest and the contracting waistband are the cherries on top of this asymmetrical, flowy mesh design. The halter neck splits into a triangle just at the right place, as if deliberately intending to make your partner drool! 
4. WOMEN'S LACE ABOVE KNEE BABYDOLL DRESS/ NIGHTWEAR LINGERIE - PURPLE
Charmer, at first glance, this purple-on-black is nothing short of royalty. Free your arms and spirits in this off-shoulder lingerie dress that is a careful cross between a seductive, weightless, dominant magician - innocent but incredibly naughty! It has to be the top pick for a night full of teases, spicy back and forth, and then, finally, a fateful, mischievous revisit to all the most memorable nights of the past!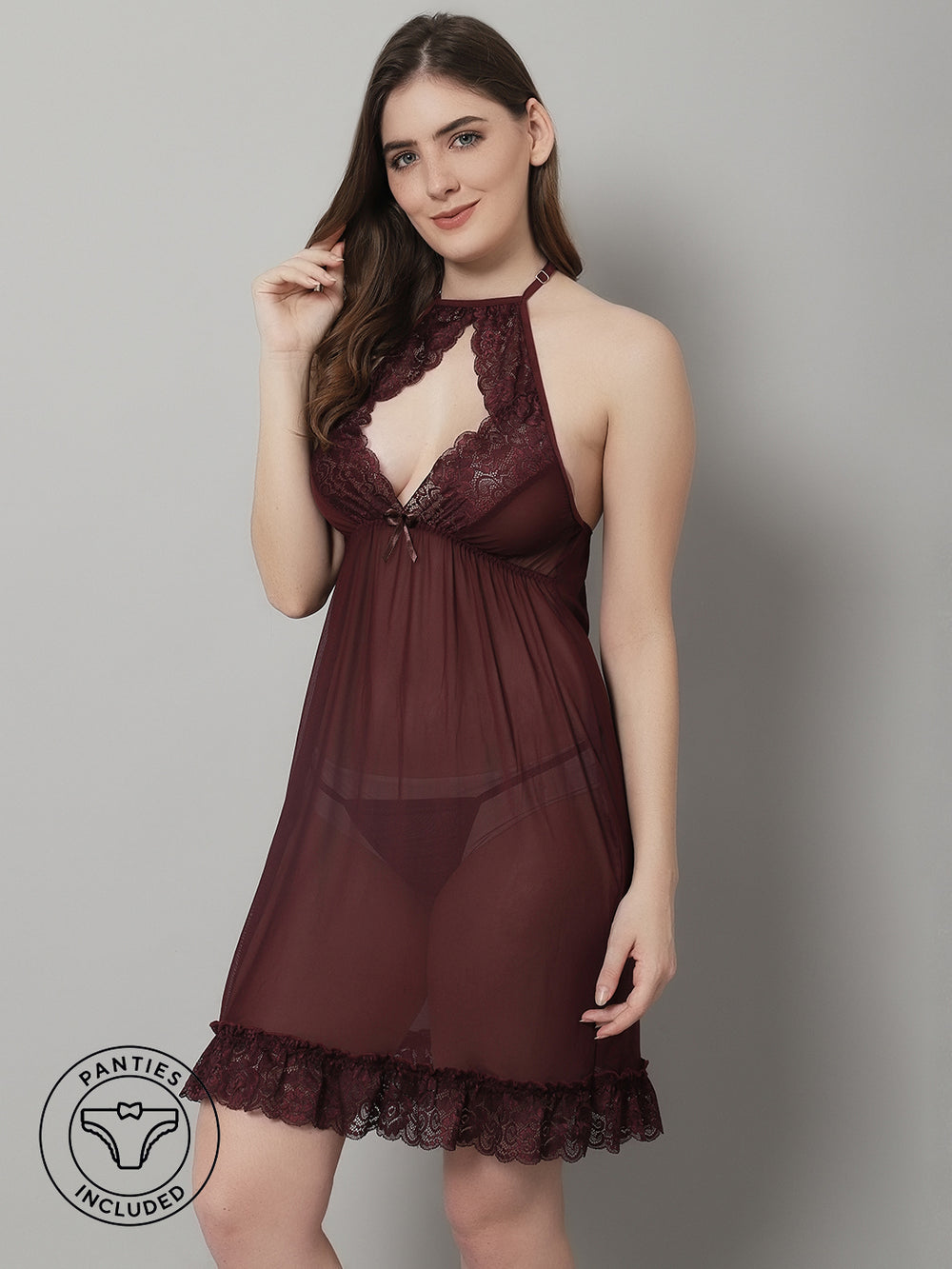 5. WOMEN'S SOLID ABOVE-KNEE BABYDOLL DRESS/ NIGHTWEAR LINGERIE - WINE
No woman can say no to this diamond neckline masterpiece. A layer of lace at the bottom gives the dress a festive look. The dress i
s fantastic for a comfortable sleepover that can turn into a lot more, as well as a private candleliht dinner in which you want to look like your best version! This mesmerizing sheer design allows you to experiment with what makes a bold appearance and what is hidden for later! Pounce on your partner with a weapon he cannot resist, and enjoy yourself to the fullest!
Summing It Up
Several classic and trendy necklines, skirts, and lengths have been introduced in the sophisticated lines of luxury lingerie that are today every woman's first choice. No lady will say no to an intimate wear that magnifies her beauty and makes her feel loved at every touch. Discover your inner femme fatale so you can slay in the inner chambers and move your partner with inexplicable desire!
Frequently Asked Questions (FAQs)
Q. What kind of nightwear is best for honeymoon night?
Ans: A night dress for a honeymoon should be comfortable, high quality, and unique in design so that both partners can have some fun exploring its secrets. It should be in a color that makes her feel powerful and flatter her body type to enjoy this night.
Q. What colors make a girl feel powerful and passionate in bed?
Ans: All colors are powerful, and the ideal shade depends on the subjective nature of the girl wearing it. However, if you wish to appear powerful to yourself, try going for luxurious colors like black, red, midnight blue, wine, crimson, etc. These are adventures, bold shades that push a girl to break her limits and reach another height of passion.
Q. Where can I find luxury bedroom wear at an affordable price online? 
Ans: 'Shararat' is among the few Indian luxury lingerie brands that bring exciting seasonal collections to women at affordable deals. These are designed to make her feel unique, luxurious, and pampered at every stage of her day, even behind doors and away from the public eye.