Made For Brides – Introducing The Bridal Nightwear Collection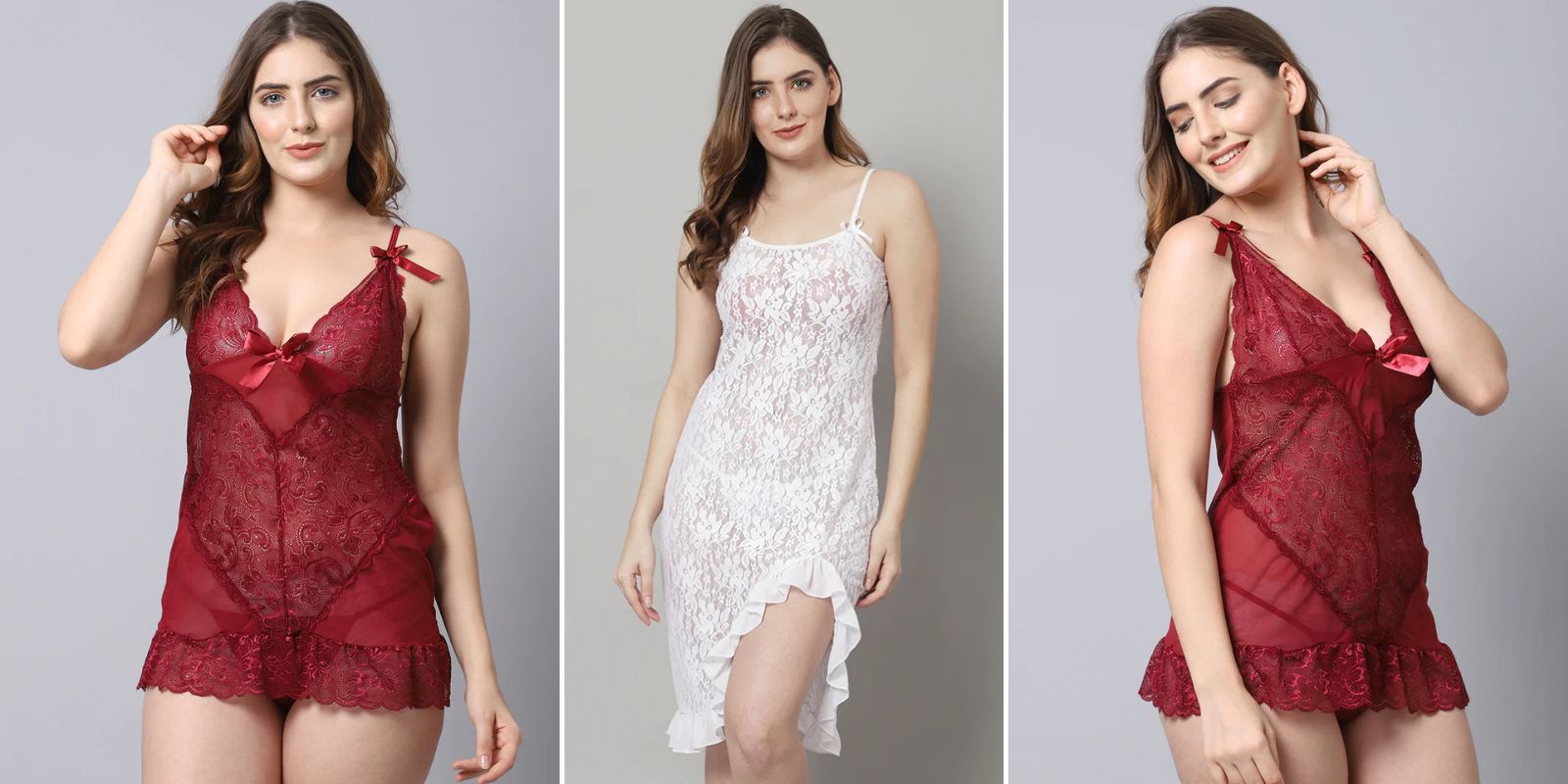 Babydoll dresses
If you're hoping to go for that hot but cute look, then a babydoll dress is exactly what you require. Babydoll dresses usually feature a fitted top with a flowy bottom and are crafted from sheer or semi-sheer fabrics like lace, nylon and satin. If you want your inner seductress to take the wheels for the night, these sexy honeymoon dresses are the best option for you. The best part is, these are comfortable enough to be used as sleepwear.
This short wine babydoll dress is an excellent option to keep the temperature rising on your special night. Or you can pick this blue off-shoulder babydoll dress to give off a cute vibe. Wear your babydoll dress with a matching lingerie set for a bold and sexy look.
Babydoll gowns
If you'd rather go with a glamorous look than a sugar and spice vibe, a sultry babydoll gown is just the thing for you. From front and side slits to open backs, you'll find a range of designs and styles in babydoll gowns. You can choose an option like this beautiful white lace-long babydoll for more coverage. And if you are comfortable with showing a little more skin, pieces like this black babydoll gown with an extended front slit will be a better fit. Don't forget to team up your gown with a sexy bra and panty set to complete your look.
Teddies
A bodysuit teddy can make you feel absolutely gorgeous by accentuating your best features. Find one in soft, sheer lace fabric and pair it up with a robe for a sexy and glam look. This bridal lingerie is comfortably fitted and can be worn as sleepwear. This teddy in hot red can be the perfect addition to your bridal collection.
Short nighties
Short nighties can be excellent nightwear for women if you are not comfortable with more revealing nightdresses like babydolls and teddies. Short nighties for women look cute and flirty and are super comfortable to carry. Look for one in cotton if comfort is your main goal. For a more sultry appeal, you can go with fabrics like silk or satin.
Shorts night suit set
That's right! You don't have to give up your favorite sleepwear and loungewear post your wedding. In fact, shorts sets make the perfect night dress for new brides. Short night suits can be saucy but are not over the top. And these are comfortable enough for you to sleep in or lounge in all day! Find a shorts night suit with a sleeveless top or a crop top for a more spicy look.
Like this divalicious cotton night suit that is stylish enough to be worn outside the bedroom. Or this simple and sophisticated floral printed night suit that's chic and feminine.
Long nighties
Nighties for women have stood the test of time and remain one of the most popular choices when it comes to women's sleepwear. Now, they may seem a little conservative but that does not mean your favorite nightgown can't give you a beautiful and alluring look. Look for luxurious fabrics(like silk) and beautiful details while selecting your nighty. For instance, this beautiful blue nighty by Shararat comes with a unique geometric pattern that gives it a modern touch. And if you want to add a little more elegance to your look, you can choose a nighty kaftan instead.
Women's pyjama sets
A modest and appealing women's pyjamas and top/shirt night suit set can also be suitable sleepwear for your wedding night or honeymoon. Choose a satin or silk pyjama for a sultry and stunning look. Or go with a stylish cotton or rayon pyjama, night suit for women for maximum comfort during hot and humid summer nights.