Flirty and Fun: The Best Babydoll Dress for Summer Night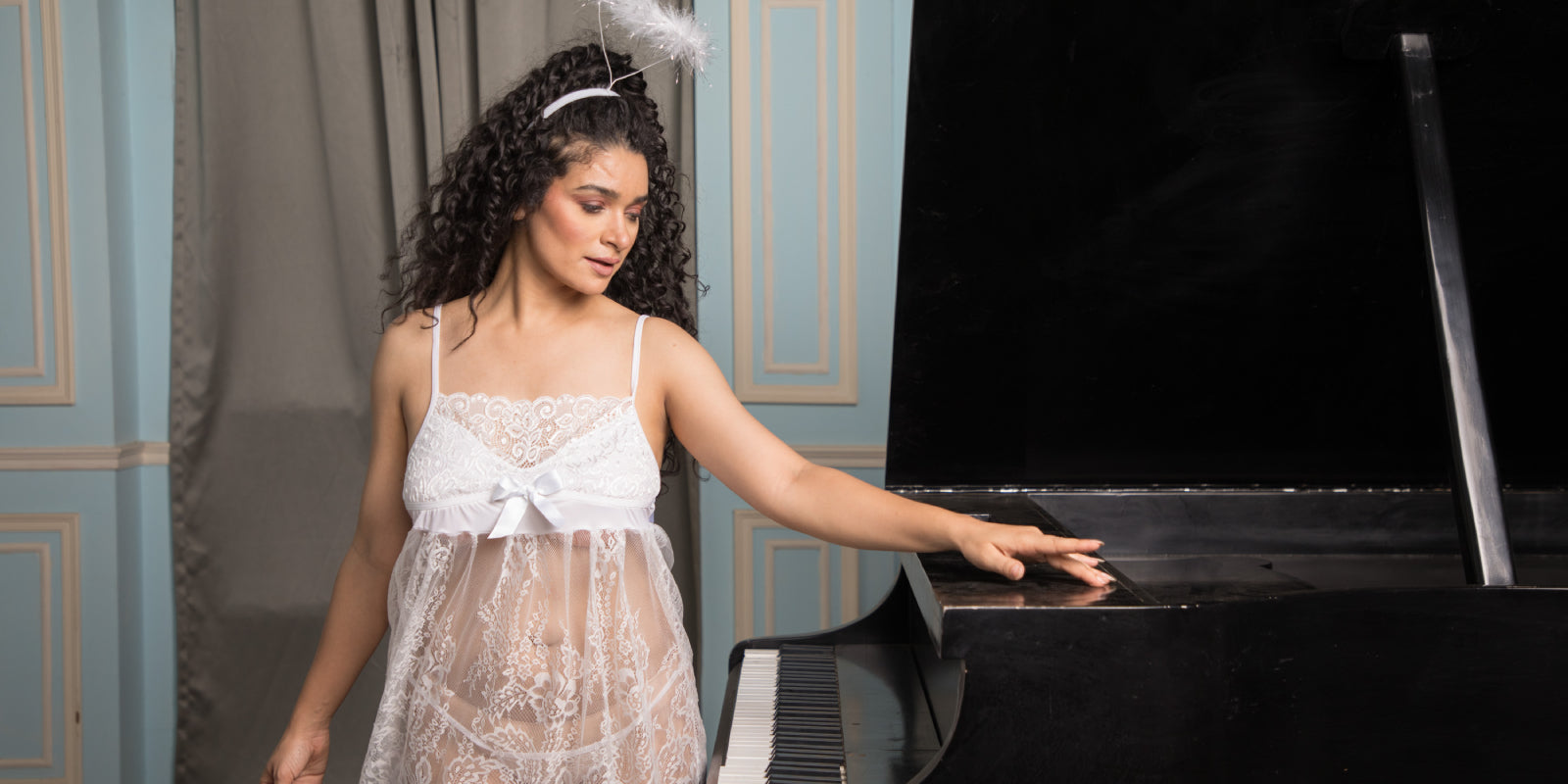 1. WOMEN'S LACE ABOVE KNEE BABYDOLL DRESS/ NIGHT WEAR LINGERIE - YELLOW
Your black intimate wear looks tempting, no doubt. But it's certainly a good idea to mix it up and play around with colors every once in a while. Everything about this short perky honeymoon nighty speaks 'summer ready'! Its vibrant yellow color and the pleasing colorful floral pattern give this dress a fresh and cheerful vibe. The flirty deep v-neck, the intricate lace bodice, and the cheeky slit at the back of the skirt area add to its playful appeal while adjustable shoulder straps ensure a good fit!
2. WOMEN'S BLACK & RED NIGHTWEAR BABY DOLL COSTUME
Ready to go that extra mile to explore your wild side? Then this daring two-piece number is just the thing for you. The set comes with a black tie-up front top, perfectly paired with a super short plaid skirt to give that innocent but naughty vibe. With a tasteful glimpse of the midriff, the babydoll set exudes temptation and allure, making it ideal for spicing up intimate moments or stealing the show at your next Halloween party. And if your style is all about experimentation, you can use the two pieces of this lingerie set separately to create an array of chic ensembles.
3. WOMEN'S LACE ABOVE KNEE BABYDOLL DRESS/NIGHT WEAR LINGERIE - BEIGE
Subtle, elegant and uber feminine, the next contender on our list of for summer is a potential game. The lacy bodice along with the asymmetric hemline give this nightwear lingerie a cheeky and playful appeal that he will not be able to ignore. The soothing beige color of this bridal nightwear works well for those to wish to stand out without being too whimsy or loud. This cute and daring babydoll dress is ideal for those who love to push the boundaries of style!
4. WOMEN'S LACE ABOVE KNEE BABY DOLL DRESS/NIGHTWEAR LINGERIE-MAROON
The elegant combination of deep maroon and black makes this lace babydoll a great option who seek timeless sophistication and allure. Featuring intricate floral lace on the bust area and hemline and a semi-transparent skirt, the babydoll dress is designed to add a touch of mystery to your look. The best part is, you don't have to wait for those special nights to slay in this babydoll lingerie. Team this nightwear lingerie with other wardrobe staples (a fitted pair of leather pants and a jacket perhaps) and you are all set for a wild night out with your girls!
5. WOMEN'S ABOVE-KNEE BABYDOLL DRESS/ NIGHTWEAR LINGERIE WITH GLOVES- BLACK
Indulge your inner femme fatale with this exquisite black baby doll dress. Crafted from delicate floral lace fabric, this form-fitting number comes with a pair of elegant hand gloves for a complete look. The elasticated bustline and the adjustable shoulder straps guarantee a secure and comfortable fit. While traditional babydoll honeymoon dresses aim for a cute and innocent appeal, this sizzling outfit takes a delightful detour in offering a bold and tempting aesthetic.
Summing it up…
Planning a night of romance and intimacy with your partner? Or perhaps you're busy preparing your wedding trousseau before the big day is here? Whether the case may be, a few alluring bedroom-wear outfits are exactly what you need. At Shararat, we offer a range of enticing and elegant bedroom wear that can help add an element of excitement to your intimate moments.
Stay with the classics like robes, lingerie sets or nighties or discover your wild side with contemporary options including babydoll sets, bodysuits and erotic costumes. No matter what you choose, rest assured your partner just won't be able to get enough! Let your playful side take the wheels as you gear up for a night of fun and romance with Shararat!
FAQs
Q. What is the difference between a baby doll and a nightie?
A.Babydoll dresses and nighties may differ in design, occasion and purpose. Babydoll is a one-piece number featuring a fitted bust area and a flowy skirt at the bottom. The hemline falls just below the hips or upper thigh. A nightie is a loose-hanging garment that is usually longer. Generally, babydoll dresses are considered to be fun and flirty making them perfect for intimate settings whereas nighties are considered to be comfy and practical sleepwear. If you're looking for a dress for honeymoon night,, babydoll lingerie is one of the top choices.
Q. What should I wear to bed in summer?
A. To stay cool and comfortable during hot summer nights, it is important to choose cotton sleepwear made using soft, lightweight, breathable fabric that possesses moisture-wicking properties. A few comfortable nightwear options for summer are pyjamas, night suits, short sets, night dresses, nighties, and sleepshirts. If you are looking for something more romantic and appealing, a lace babydoll might be the right option for you.
Q. What should you wear on your honeymoon night?
A. For your special night, you'd probably want to stick to a honeymoon nighty that's not only sultry but also comfortable. A few top options you have while choosing a dress for honeymoon night include silk or satin nightshirts, nighties, babydoll dresses, lace lingerie sets, teddy or bodysuits, and silk/satin robes. At Shararat you'll find a range of appealing and comfy bedroom wear to make your honeymoon night a memorable one.
Q. What are the benefits of a babydoll dress?
A. A babydoll honeymoon dress is a comfortable option that creates a flattering silhouette by highlighting your curves. It is quite easy to carry and can help boost your confidence, making those special moments a little more special. It is also a great bridal nightwear option and can also be styled with other wardrobe staples to create a chic casual look.